Transitional Times Transitional Body | Discipline Welcomes Beauty ~ works by M. Téllez
$

8.00 Sold Out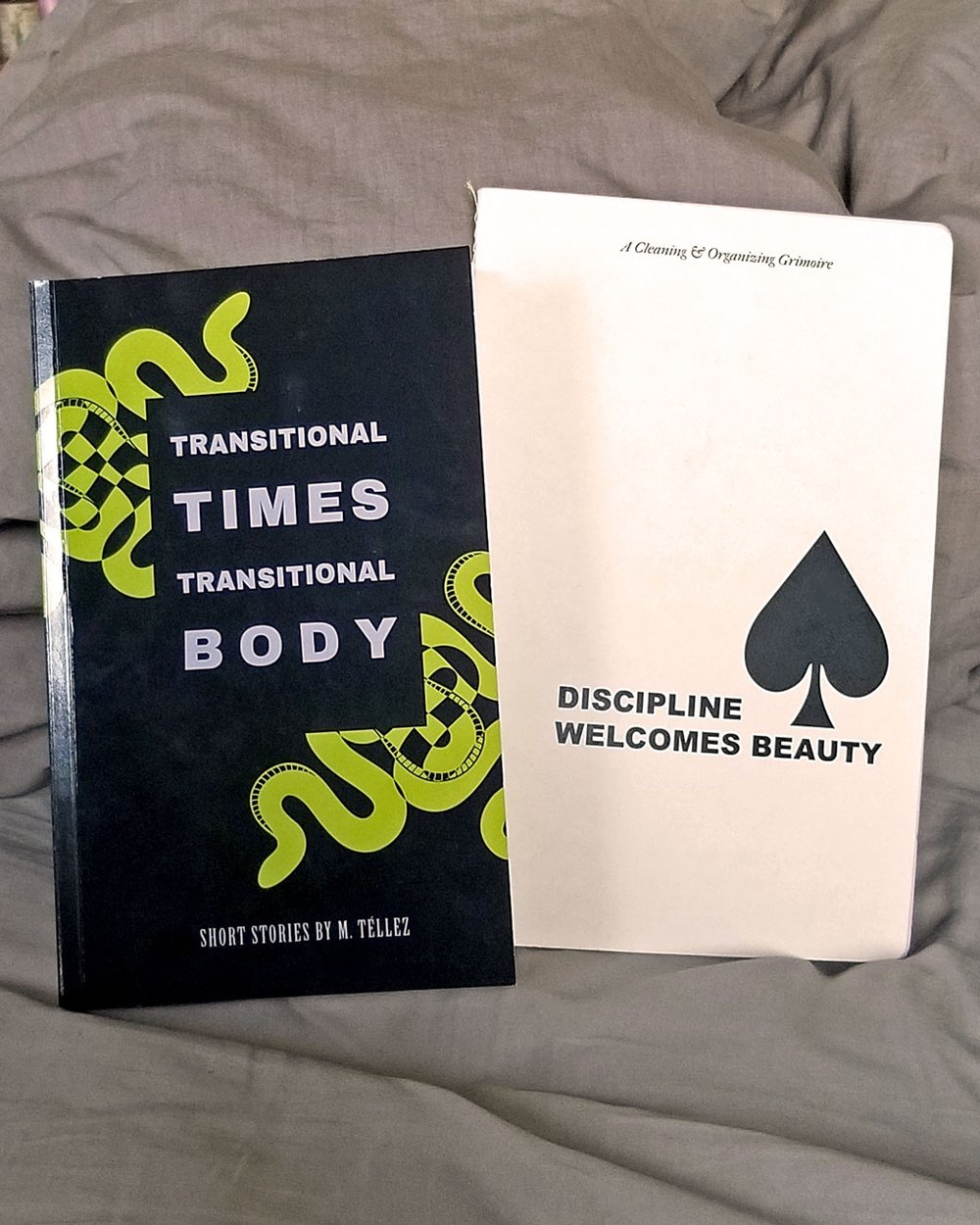 AS OF 04/2020 THIS URL IS CLOSED FOR BUSINESS. TO BUY THESE BOOKS VISIT DHD215.com
Two releases from our own M. Téllez a.k.a. Magus Monk. One, a short story collection. The other a cleaning and organizing grimoire. Choose one, the other, or both.
If you are *only* purchasing these items, please consider buying them directly from M. at DHD215.com.
TRANSITIONAL TIMES TRANSITIONAL BODY
Tales from the crossroads of desire, hope, and despair. A sci-fi survivor memoir that has no princes, cops, or chosen people, that does not promote the colony or romanticize the empire. The short stories in this freshly expanded collection make apt companions for travelers, underworlders, heartbroken hope seekers, and of course fellow cyborgs.
Once a zine, now a book with 6 stories:
• Heat Death of Western Human Arrogance
• About A Woman and A Kid
• Adolescence
• The Romance of the Colony
• Monk's Dream
• Real Work You Deserve
106 pages.
Set in OpenDyslexic typeface.
3rd edition for 2020.
ISBN: 978-0-9981138-3-8
Ships media mail.
DISCIPLINE WELCOMES BEAUTY [CURRENTLY SOLD OUT, REPRINT TBA]
A long-awaited grimoire. Discipline and cleaning & organizing are things I seem to be known for. In my personal space, I'm very fastidious about things being clean and organized, and I view it as something I do for myself yet also feel conflicted about the deeper meanings of its values. So I decided to write about it.
I used to be a very messy child. You couldn't see the floor in my room, and I would dash across the crap pile, and locate things by triangulating their last known whereabouts by crap quadrant. One day - I must've been seven or eight - I cleaned up my room.
I don't know why I cleaned it that day out of the blue. I had just decided, is my only recollection. It surprised my mom, as did the reason. I've kept my personal space organized ever since.
I wonder now if maybe I hadn't realized the burden it was to my mom who would have to spend the whole day cleaning her child's room every few weeks.
Here's some of the section titles:
The bitch's retreat
Not purity. Not order.
Control.
Take good care of your tools and they'll take care of you.
Keeping altars.
Beauty as a sensation.
Letting things go.
Just remember that you'll have to live with it.
and others.
Share