STYLE OF ATTACK REPORT
$

13.00 Sold Out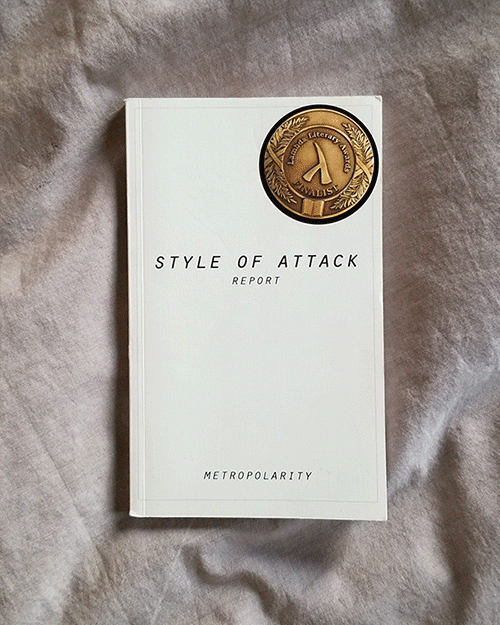 AS OF 04/2020 THIS URL IS CLOSED FOR BUSINESS. TO BUY THIS BOOK VISIT DHD215.com
2017 Lambda Literary Award Finalist in LGBTQ SF/F/Horror
"...an unprecedentedly rich source of contemporary science fiction..."
"Style of Attack is amazing! It's like our generation's Snow Crash but way better; feel like it's exactly the kind of work that people need to be making and reading right now. Metropolarity is killing it."
METROPOLARITY is a DIY sci-fi collective based, bred, and tested in the colliding future-present of Philadelphia. This Style of Attack Report contains select work from Metropolarity's four founding members, who contribute theory, practice, and experience of home grown speculative visioning for both historical documentation as well as personal and collective survival. The collection serves as a model and a record of how Black, brown, queer, low-resource, working, ill and in-recovery people can project themselves into the future, conjuring resources, technology, and magic that aid us in the present.
Also this sci-fi is FIRE cuz the crew don't play.
120 pages
4.25" x 7" linen softcover, cream pages
black & white
ISBN: 978-0-9981138-0-7
METROPOLARITY: The manifestation of contrasting principles, tendencies, or lifestyles in an urban system and any reactions resulting from encounters between these forces.
If you would like to stock our book in your shop or classroom, email [email protected] for inquiries on wholesale ordering.
Domestic shipping via USPS media mail.
Share