ARKDUST by Alex Smith | 2nd Printing
$

15.00 Sold Out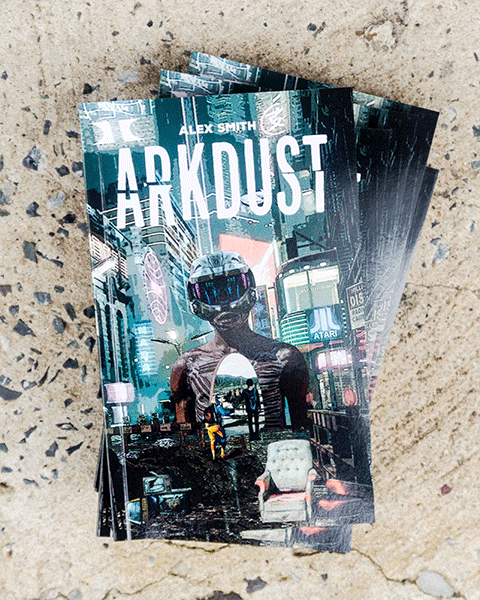 AS OF 04/2020 THIS URL IS CLOSED FOR BUSINESS. TO BUY THIS BOOK VISIT DHD215.com
2nd printing!
"This book doesn't predict the future, guide humanity into a pre-determined, technological wonderland, it's no obelisk that 'they' get to touch, toy, play with and weaponize in the halcyon days of an encroaching new world order, no. Arkdust is a guide through the washed-out apocalypse already upon us. Keep this in your back pocket, tucked between calculus text books, hidden from your step-dad, and left to rot on a public transit seat."

162 pages from our own Alex Smith.
gloss cover paperback with several black/white collage illustrations
ISBN: 978-0-9981138-2-1
Ships media mail w/in US.
Money from sales of this book goes directly to Alex.
The Word from Alex:
In 2011 I wrote a horror story that featured a heavyset bisexual Mexican protagonist that I titled "These Are the Things That Bad Men Hear at Night". A few days later, I read that story in front of an audience at an anarchist community center. A few months after that, inspired by the horror reading, I sent an inquiry to a radical listserv asking if any LGBT/queer folks wanted to read at a sci-fi reading. The event was called Laser Life. There, I would discover the writing of Ras Mashramani, Rasheedah Phillips and Magus Monk (the first responder to that email sent on the listserv). After cultivating a following, the four of us formed a collective of artists, activists, witches, cyborgs, aliens, mythmakers, superheroes, replicants and time-travelers: Metropolarity. We put out zines, gave lectures, organized in our community, and created art, music and culture in various forms.
In the midst of all of this universe expanding beauty, I put out a zine called A R K D U S T. It featured my short stories and collages, stories and art that featured undervalued, underrepresented, marginalized folks in lead roles, empowered and powerful-- but also worried, shy, afraid, unsure, but always capable, strong, and fully realized. See, the idea behind Laser Life was that we, the marginalized (people of color, Black folks, LGBT folks) would step in from the margins, would not be just background dressing as the cishet hero walked through the bazaar in his trench coat scowling at his ethnic surroundings cribbed from Asian, African and Latin American real world settings. No, we would be the ones time traveling, fighting super-villians, creating new worlds. ARKDUST was an extension of that feeling made tangible.
Science Fiction is as powerful a tool for social change as it is entertaining. Science Fiction is as much a realm for exercising our uppermost fantasies as it is a vessel for creating lasting emotional, psychological and spiritual change from within. With ARKDUST, that is what I have endeavored to do. Like, yes, I'm really out here trying to change shit for ya'll! These stories are the culmination of 8 years of creating, developing, growing universes on 8x11" of white space. They've been edited and selected from both the ARKDUST zine and my Afterverse tumblr where I posted short stories about queer Black superheroes. These are those stories leaping off of the xeroxed page, bursting out of FedEx/Kinkos late night cut-n-paste sessions, teeming out of community centers, college lecture halls, SEPTA bus stations, and mystic forests. I don't have much, but I can offer stories.
I'm asking my friends to help turn these stories into a book! As many of you know, my partner Shane and I have been beset with drastic life changes and difficult medical issues. Without going into detail, I've had to work multiple jobs and help Shane navigate the healthcare system. This book becoming real, becoming tangible, becoming a thing we can hold in our hands-- all of us-- as a symbol of defiant representation would mean the world to us. But we can't do it without you. So, here's our gofundme page. We hope that you'll share it, donate if you can, get others to donate, and support us as we take off into the stratosphere.
Special thanks to Oskar Castro and Steven Arnold for artwork and layout, respectively.
Alex Smith
Metropolarity/Laser Life/Chrome City
alexoteric.com
metropolarity.net
Share